NYC Marathon Training Recap Weeks 9 & 10
WEEK 9 BY THE NUMBERS:
Miles Run: 46.5
Longest Run: 15 miles
Gym Sessions: 0
Miles Biked: 24.6
Week 9 of my training was another evening-heavy one: knowing I had a 14-miler scheduled for Wednesday and I would rather do that distance after work, I shifted all my runs to the evening for consistency's sake. At the same time, I wanted my bike at the office so I could ride to some midday appointments, so I biked into Manhattan on Tuesday morning before knocking out 6.5 easy (if very hot) miles on my way home to start my week of night run commutes.
Unfortunately, Wednesday's 14-miler was a complete disaster. I prepared as well as I could —no bike commute that day, just a few miles in the afternoon; lots of carbs and dutiful hydration through the day; hitting the road as early as possible after work— but in the end I think the heat and loss of electrolytes did me in. My plan was to run from my midtown office up 1st Avenue along the NYC marathon course, into the Bronx for a bit before coming back South to Randall's Island, looping around, and finally returning to Astoria via the Triboro Bridge. The 90F heat and humidity wore on me through the first 6 miles, and even though the sun is going down earlier and earlier, I didn't find any relief with nightfall and was flagging by the time I reached the Bronx. After crossing the Willis Avenue Bridge, the short stretch of warehouses and traffic lights before the calm of Randall's Island gave me a chance to slow down and catch my breath — but I was still despondent at the thought of how many miles lay before me. I was hot and sweaty, and though my muscles weren't burning with fatigue, I was having trouble keeping moving. I had plenty of water and dates for fuel but couldn't shake off the growing lethargy.
When I reached Randall's Island, I stopped. I wanted to just run home —roughly 3 miles from where I stood— instead of first running the 3 or 4 mile loop around the Randall's waterfront. But so often, when I hear my body saying I can't, I know it's really my fearful mind protesting, and I can and should push through.
Running is the sport of keeping on when you think you can't. Pushing through when you think you're finished, and giving more than you think you have...but once in a while, runners really do reach their physical limits.
I hate to admit that a 14-mile run was more than I could handle, but that night it was. In hindsight, I know I've been having issues maintaining appropriate electrolyte levels —returning from runs crusted in salt and not replacing these vital molecules on the run, or proactively once I'm home. As I ran through the oppressive heat and humidity that night, my body tried to keep cool by sweating, losing water I replaced by drinking alongside electrolytes I didn't. Without the salts necessary to control my muscles, my run slowed, body protested, and legs dragged. I thought I could simply push through but as my mind grew fuzzy and my panicked body stopped even sweating, I realized this run was one I should have had the sense to end early. I was lucky that I could hobble home over the Triboro, text my boyfriend my whereabouts, and stay calm, but this run was a new and scary low for me. Pushing limits sometimes means finding and blowing right past them, and this night was one of those rare workouts.
I made it home in 13 miles, ate, hydrated, and tried to get my body back on track with a rest day on Thursday instead of another 6-mile run commute. Ideally, running easy the day after a longish run would keep my weekly mileage up, and without adding more super long runs to my schedule, the cumulative fatigue would still encourage my body to adapt to long distances and efforts. And generally, I like Pfitzinger's approach to mixing and matching strategies to stress the body into getting stronger and faster, but it's a pretty aggressive plan. In this case, I decided a day to rest so I could recover in time for my weekend long run was more valuable than the benefit of a run on tired legs and a pretty decimated body overall. I bike commuted home to get my blood moving but took things very easy and was still feeling quite sluggish.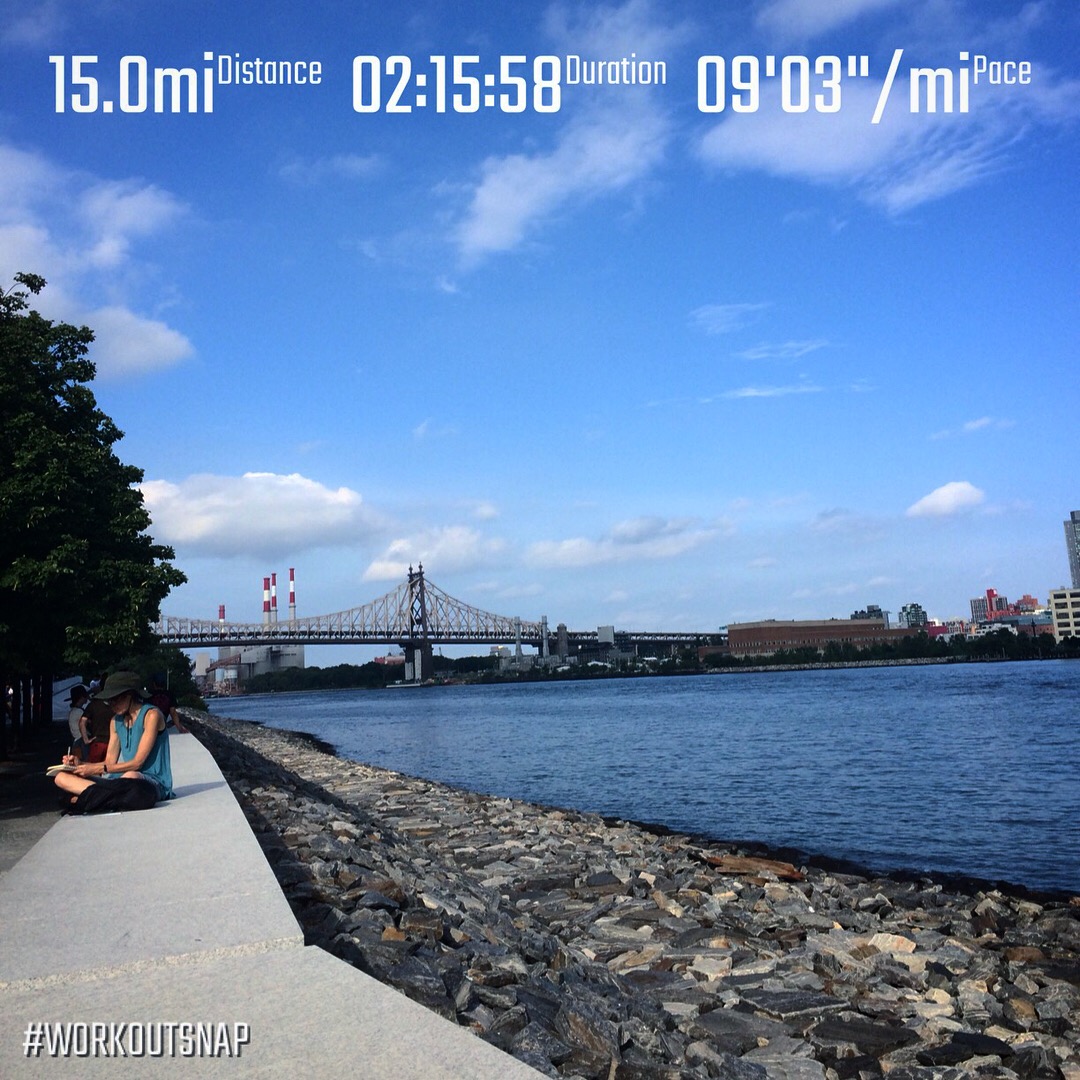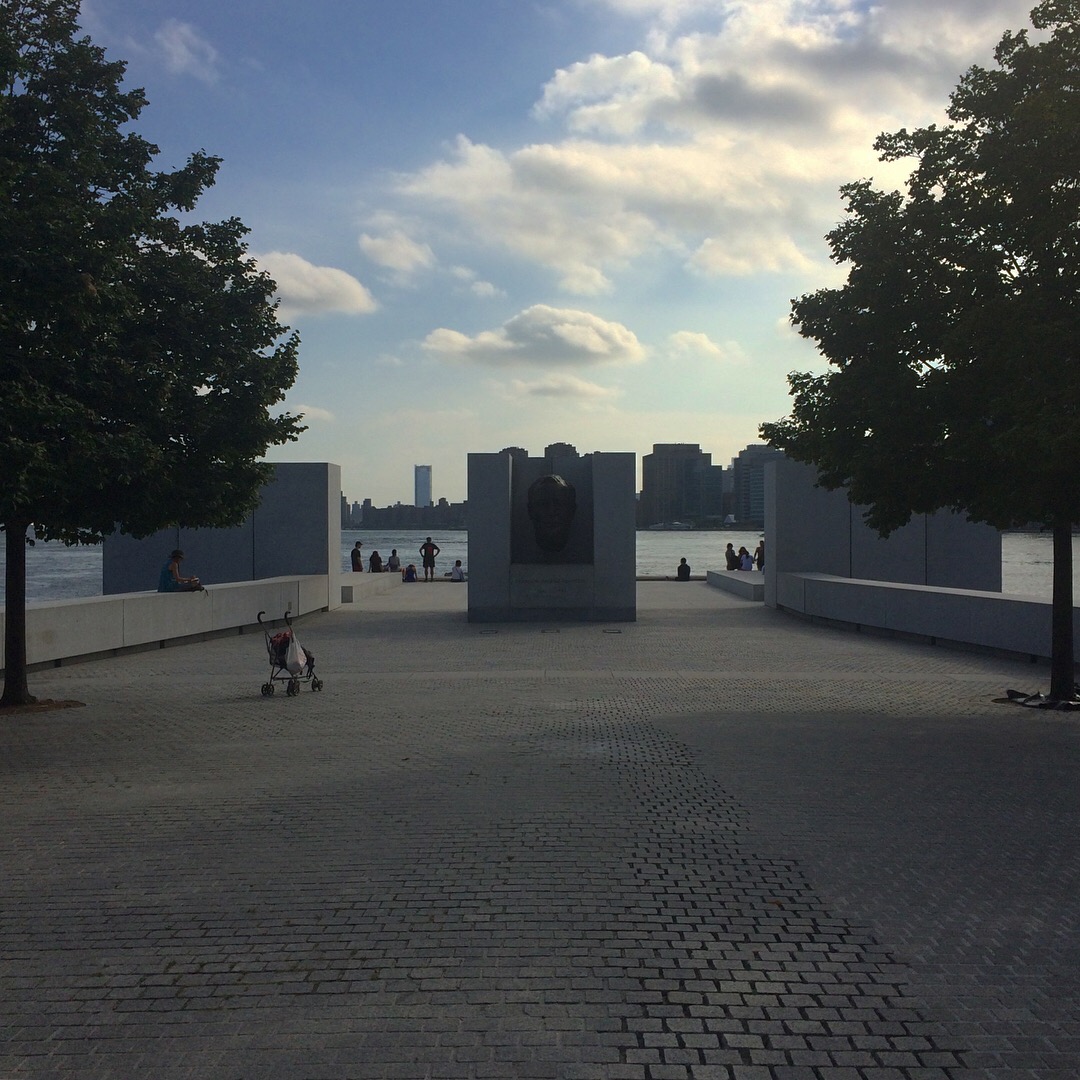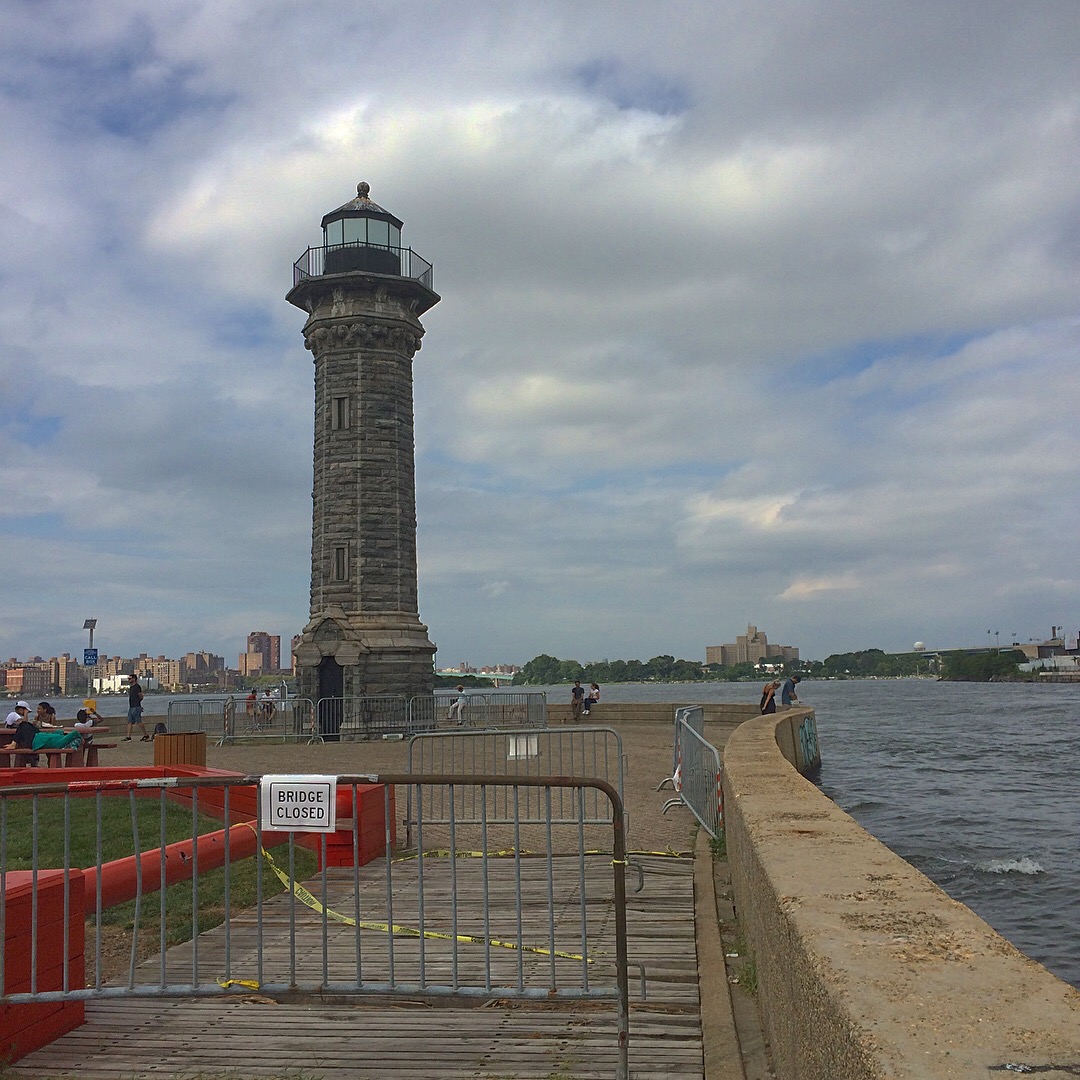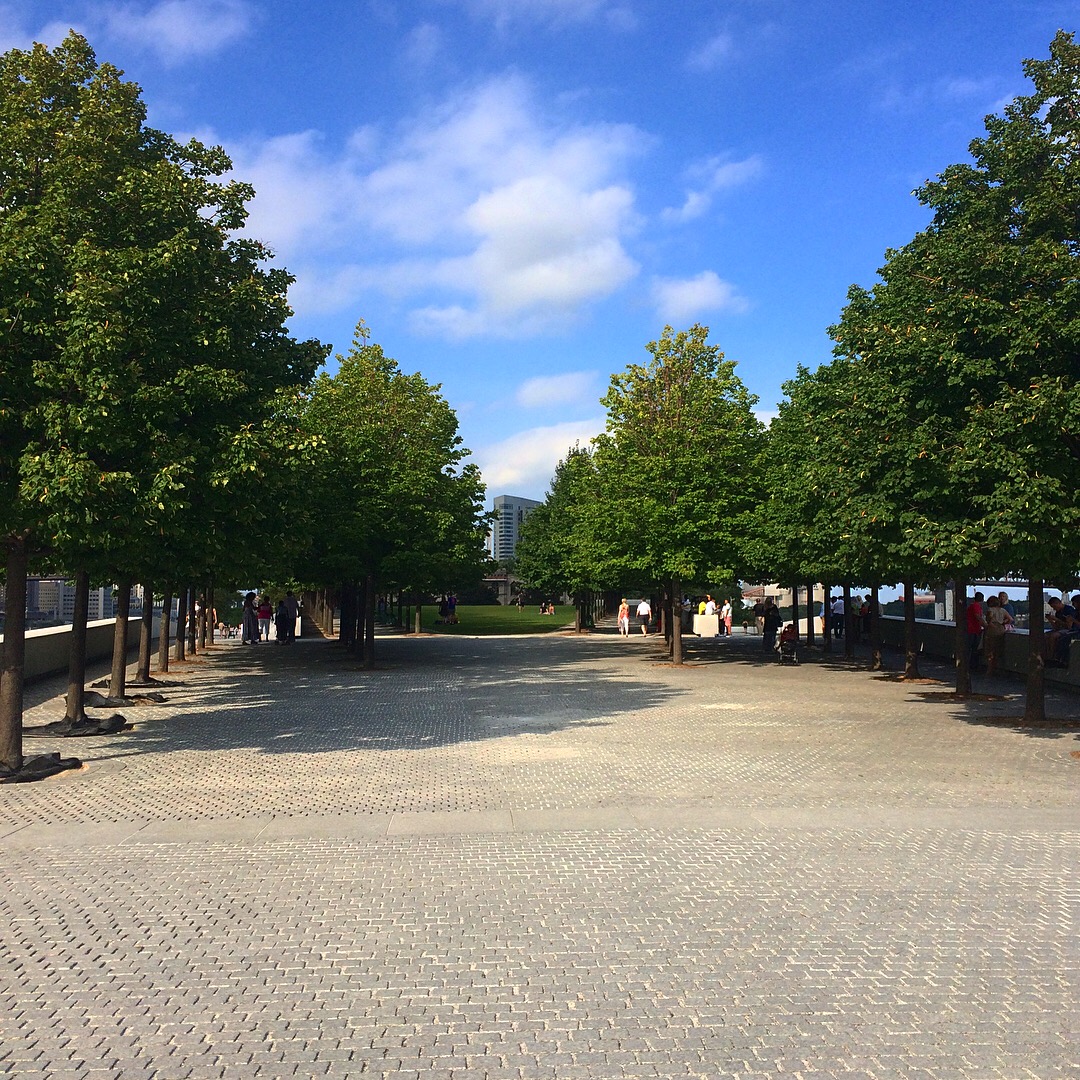 Saturday's 6 miles with strides had me back to normal, but I made the snap decision to join some friends for drinks that night, sabotaging my plan to do my 16-mile long run with 12 at marathon pace early the next morning. When I finally did head out to Roosevelt Island, my first few marathon pace miles went according to plan, but I clearly hadn't learned my lesson on Wednesday: the hot day and hangover soon started to wear on me. I fought through some cramps and sudden lower back pain but couldn't settle into marathon pace as well as I hoped. And to avoid "driving drunk" I'd left my bike at the bar the night before so I needed to end my run there to bring it back home — but when I realized I'd arrive a mile short, gave up and settled for 15 miles total.
My mid-week long run was a real low point, and was frankly a little scary: I have had some bad runs but very few have left me feeling so weak or stranded, or so uncertain about trusting my ability to interpret body's signals and knowing when to push myself. I've never been great at navigating the border between productive discomfort and dangerous pain, and spent many years learning to ignore my body's cries for help, often resulting in injury — even earlier this year, when the IT band issue I tried to ignore worsened to the point that it sidelined me for months. But I also want to think about this run, that experience, and the other setbacks I've faced as points on a graph that I'm slowly learning to read; even if I'm late in learning how to listen to my body so I can know when I have more to give and when I need to back off, I hope I can still learn to read those signs, train hard, and still stay healthy. And when I think about the months I've spent injured and how far I've come back from those days — in the grand scheme of things this one bad run, as difficult as it was, didn't leave me that broken, and I'm still grateful I was able to hit the road again just a few days later.
WEEK 10 BY THE NUMBERS:
Miles Run: 43.2
Longest Run: 14.2 miles
Gym Sessions: 0
Miles Biked: 6.9
Week 10 was a welcome cutback week, with lower overall mileage and only one workout. After a straightforward 8-miler on Tuesday morning, Wednesday I headed down to Astoria Park for my first track workout of the year.
I had 5x800m intervals at 5k pace on the schedule, as part of an 8-mile day, so I took the long way down to the track. I prefer my warmups on the longer side, and despite some nausea early on, after 3 miles I arrived feeling good to go. I haven't done any track work since marathon training last year, and while speed doesn't come naturally to me I do enjoy the rhythm that laps on a track can allow. The repetition and focus that comes with a series of identical intervals leads to a zen workout, despite the physical exertion that comes with a hard effort. Of course, too many laps can get monotonous — 800s that take two laps around our track are the longest intervals I want to do away from straight roads, and my plan doesn't even require many workouts like this.
This workout was a helpful check-in for me, as I ran hard in a fairly controlled environment. Unsurprisingly, my 5k effort is slower than it used to be, but I'm not as far off as I feared. I haven't done any speedwork (beyond short 100m strides) recently, so even seeing paces of 7:34, 7:49, 7:42, 7:53, 7:48 was a big change. I would like my 5k pace to be dipping below the 7:30s by now, and hopefully soon this run will just be a benchmark in the rearview mirror.
I was training alone, as usual, but I had quite a bit of company on the track — a few more solo runners, and at least two good-sized training groups from my neighborhood were also pushing through the summer air to get their workout in. The track might have looked crowded, but there was plenty of space and it was a refreshing change to be working out around other runners. And while I haven't done any track workouts recently, I was looking ahead to the Fifth Avenue Mile on Sunday, and was glad I got a little bit of turnover and confidence from speedy intervals before that iconic race.
I didn't bike commute this week because of the heat: with work getting busier and more meetings on my schedule, I have to be careful not to show up too sweaty! Friday and Saturday's runs were comfortable as the weather dropped, and Sunday morning I woke bright and early to head into Manhattan for the Fifth Avenue Mile. My typical oatmeal breakfast left me a bit queasy but I hoped to feel better by the time I got to the start line; the weather was cool and rainy, but despite the possibility of slick sidewalks this was a welcome change from the oppressive heat and humidity we've been seeing. I debated wearing a windbreaker but ultimately just wore a t-shirt and shorts, with a cap to keep the rain out of my eyes.
After coffee and breakfast, my boyfriend and I took a cab from Queens to Central Park, and I ran about a mile and a half to warm up, including some sprints. The race starts at East 80th Street and heads downtown to 60th, where we'd meet up again and head out for the rest of my long run. I was pretty nervous before the start of the race, and remembered that last year I lined up very close to the front of the pack and went out far too fast. Knowing how bad I am at pacing myself and how susceptible to "peer pressure" I am at the start of a race, I shouldn't be tearing out alongside girls fit enough to run sub 5:00 miles. Last year I ran 6:36, and especially because I didn't expect to do better this year, I knew I shouldn't sabotage myself by going out at an unsustainable pace in the first 400 meters. The Fifth Avenue Mile is also notorious for the hill between the one-quarter and three-quarter mark: by no means a large incline, but in such a short and fast event, it's a substantial obstacle. The first quarter mile is a deceptive downhill to that slope, and even though I knew it was coming, last year it got the better of me.
But all my careful, self-aware planning went out the window as soon as the starting gun went off. Whether it was the adrenaline of being at the start line, feeling good from my warm-up strides, getting competitive with the girls around me, or just my usual lack of self control — I dashed off at a sub 6:00 pace and regretted within a few hundred meters.
I knew my GPS watch wouldn't give me a perfectly accurate pace, but I could tell I was in over my head when I reached the quarter-mile split 10 seconds ahead of schedule. I had looked up the splits I'd need for 6:30 and 6:45 miles that morning, so I could have a sense of my pace without relying on my watch, though that day it seemed to be giving me decent feedback. As I started to feel the effects of my breakneck pace and approached the race's central hill, I slowed down and was pretty much back on track by the half-mile clock. Of course, I knew that if my average pace was what I planned and the first half of that interval was too fast, then I'd slowed down and I would need to course-correct again by speeding back up for the second half of the race.
I tried to steadily pick up the pace but had burned quite a bit of gas already and struggled to get below a 7:00 pace, per my watch. I forgot the splits I needed at the three-quarter mark and couldn't add up the intervals on the fly, so I continued running by feel and hoping for the best. As we neared the finish line, girls who had done a better job pacing themselves passed me to finish strong, and I really felt the effects of my untrained (for speed) legs and overzealous starting pace. Long runs hurt, but short distances and finish lines are acutely painful in a way that always catches me off guard — lungs burning, forearms tensed, vision blurred, unexpectedly panicky thoughts starting to set in— and the last 10 or so seconds of the race are a tunnel-vision blur to me.
I crossed the finish line and took a breather on the barricades in the finish chute before heading out to meet up worth my boyfriend. Finding someone at the end of a race, even such a small one, is always tough! We eventually found each other, and I tried to check my finish time through the NYRR app. But there was nothing there except a steadily increasing time — my bib never registered crossing the finish line and so for me, the clock was still running!
I later saw my Garmin clocked a 6:42 mile, which was just about what I expected to run, but this race wasn't just for the test of running a timed mile — I wanted the credit for running a race within the 9+1 program that would qualify me for the 2019 NYC Marathon! I found a volunteer and explained my predicament, and she told me to email the NYRR with my bib number and info to get things straightened out. I've now done that, but was notified that in order to give me the 9+1 credit they still need to verify that I ran the race, so they'll be using my bib number, estimated finish time, and description to check for me on the finish line footage. I wish I could get back the official time (and that I'd been able to beat my time from last year, 6:36) but I'll settle for the credit towards my marathon entry!
We set out for the rest of our rainy long run after reporting my bib issue, and ran up Manhattan's eastern waterfront to the footbridge to Ward's Island. The FDR Drive and pedestrian esplanade took us most of that distance, though there was a bit of construction in Yorkville that we had to detour around. I don't run in that neighborhood too often, but it's always bittersweet —I spent my early childhood there, learning to bike to Randall's and Ward's Islands, attending a school we ran right past, going to a local church and frequenting a family-owned bakery that has since closed— a lot has changed since those days, and much of it had faded from my memory as well.
The drizzle continued as we ran around Randall's and Ward's Islands, then back to Queens via the Triboro, but we weren't the only ones out on an dreary Sunday morning — soccer games, other runners, and a bike race kept the island busy. After 14 total miles I headed home for a nice hot breakfast, and made it with plenty of time to watch the professional heats of the Fifth Avenue Mile. Those men and women compete at a pace I can barely even reach, but it's a treat to see running on live television. It was an inspiring way to close out the week, and I'm hoping to keep up this energy in the weeks to come. Hopefully cooler days and a strong mental game will keep me going, as I head into a busier time at work and will have to work harder to squeeze in quality runs, nutrition, and sleep.