NYC Marathon Training Recap Weeks 4 & 5
Heading out of town for week 4 of my marathon training was great for my mental health and running adventures, but left me a week behind on my recaps! Now that I've finished up week 5 (with a brutal 16-miler...) and am into a recovery week, I'm looking forward to taking a minute to catch up and look back at the very different weeks I've just had.
Week 3 By the Numbers:
Miles Run: 35.8
Longest Run: 17 miles
Gym Sessions: 0
Miles Biked: 0
Miles Hiked: 6
Week 4: Vacation in Vermont
Some runners #NeverMissAMonday, but my Mondays are usually scheduled rest days, and my boyfriend and I spent this Monday road tripping up to a small Vermont town where we'd relax for the week. A beautiful airBNB by a lake, trails to run and hike, and breweries to sample are my idea of a perfect getaway — especially when the forecast of constant thunderstorms proved to be a false alarm.
After fierce but intermittent storms on Monday, the weather cleared up Tuesday morning just in time for my first run of the week. I had 8 miles on the schedule, with a 10-miler looming on Thursday, but I figured those two runs would be roughly interchangeable if I was out on the trails, where exact mileage wasn't as important to me this week as time and elevation covered. I did a bit of research on where to go running and landed on the Green Mountain Trails — and wrote about the run here, in all its 9.5 mile glory! The time and distance were as perfect as the views, and the rain held off until after my run wrapped up.
In fact, we enjoyed the GMT so much, and were so competitive after checking out the Strava segments we hit on that run, that we returned on Friday. Instead of taking the direct and steep VAST trail to the mountain's summit we climbed up the twisty "Noodles Revenge", and then tried to PR the "Fusters Trail" segment we ran Tuesday on the way down. I struggled with some Achilles pain on the way up, but some adrenaline from the self-imposed race was helpful in clearing it up...However our plan to set a new record on the Fusters Trail segment was doomed: we thought it was shorter than it actually is. Not only were we exhausted by the 2-mile mark on the 3-mile stretch, we thought we crossed the "finish line" early and slowed to a recovery walk when we were still had a few hundred meters left of the "course"! So our times were much better than our initial attempt on Tuesday, where we stopped and started several times, but were nowhere near the course record. I was pretty disappointed that I didn't remember the segment's course better, but looking at a route on an abstract map and translating it into real terrain can be difficult. PR or no, it was still a lot of fun to throw some speed and competition into the day. (I still find it hard to admit my boyfriend has become a faster runner than me, though!)
The days between those two runs were much more low-key. I scratched Wednesday's 5-miler for a 6-mile hike, which was relaxing and still brought nearly as much elevation as Tuesday's run in just a bit more much time — about 2.5 hours and 1,800 feet. The Moosalamoo Forest/Branbury State Park is really expansive and we only explored a fraction of the trails reachable from one trailhead: a loop of Rattlesnake Cliffs (where we saw no rattlers, just a garter snake) and the Aunt Jenny Trail, and then a bit of the Silver Lake Trail, where we checked out Lenny's Lookout over the lake, but didn't hike all the way around.
The Rattlesnake Cliffs trail was steep and rocky — glad I've finally invested in hiking boots! It turns out the trail along the cliffs themselves are closed to hikers during the summer months to give the peregrine falcons that nest there some privacy. I was disappointed to miss the views down the mountain and over nearby Lake Dunmore, but I can't argue with that! At least we were able to take the alternate Aunt Jenny trail down the mountain instead of just retracing our steps after reaching the end of the passable trail.
After returning to the trailhead, we headed out onto the Silver Lake Trail, which is much wider, more heavily traveled, and suitable for mountain bikes. We didn't plan to hike the entire thing, and just went far enough to reach the turnoff for Lenny's Lookout. This little trail split off and up a short hill, where it then led straight along an enormous water pipe. We'd seen an elevated pipe earlier on —Silver Lake is actually a working reservoir— but this was one of the earliest stages of the irrigation network. We trotted along the pipe and soon reached the dam itself, but as soon as we left the treeline, raindrops started to fall. I don't usually mind rain when I'm running, but after we clambered up the side of the reservoir and were standing exposed on the edge, I didn't like the feel storm's sudden strength and whipping winds! We took a minute to take in the panorama of the lake from our vantage point, but instead of sliding right back down the steep slope took a shallower descent from the far edge of the dam, where one of the Silver Lake campsite is located.
Even though the water pipe was a little slick, we had no trouble returning from the Lookout and heading back down the Silver Lake Trail to our car at the trailhead. The cloudburst ended within just a few minutes and by the time we drove off for a post-hike beer at a local microbrewery and expedition to a goat cheese farm, the sun was shining again. We took advantage of the break in the weather to have a picnic by our airBNB's lake, though the skies soon opened up once more.
Thursday was the only day that was truly rainy, but it was perfectly timed for a relaxing rest day. The low-key day left me ready for Friday's return to the GMT — and although Saturday's short recovery run didn't make the vacation cut as we spent the day driving to the Massachusetts shore to attend a wedding, we did make time for a huge pasta dinner before Sunday's long run. Giuseppe's Italian Restaurant was right on our way into the town of Newburyport, and while it might not look like much from the highway outside, their pasta, garlic bread, and cannoli were to die for.
Newburyport is a quintessential New England town, with boutique shops, an extensive marina, Revolutionary War-era history, and seafood everywhere we looked. Fortunately that also meant long stretches of secluded waterfront, and on Sunday morning when we left our hotel for our long run, we were able to just run along the shoreline on our way to nearby Plum Island. Just a few miles from town, a tiny drawbridge hops over a marsh bit of water and Newburyport's bustling streets give way to Plum Island's classic little beach houses. After crossing the bridge we ran towards the closer, northern end of the island, taking the miles slow and feeling decently strong. But around mile 5, we took a short break to check our bearings and I realized the itching I'd been feeling where my camelbak rubbed my lower back had already been chafed raw.
I'd just worn shorts and a sports bra on the gorgeous 75 degree day, and instead of my preferred handheld water bottles, wore the camelbak because I didn't expect to find any water fountains along my planned 15-miler to fill up again. My boyfriend and I were planning to split up around the 10-mile mark and run different distances, and he would use the handhelds for a slightly shorter run; he carried one full bottle, with a second stowed inside my pack to swap before we went our separate ways. Lucky for me, he'd also worn a shirt, and I was able to tuck it under the scratchy padding of the camelbak to prevent my back from chafing any worse. We continued on to the tip of Plum Island, where we found a (frankly, disappointing) little lighthouse and a pier where we could check out the ocean view. Most of the runners and cyclists we noticed along the way were friendly and shared the road with a happy wave, though as the day went on we noticed the casual riders were a little less considerate than the folks clearly out for a long, hard run or ride....and for the most part, younger athletes were more likely to wave or smile than older ones. (One little boy on on a training bike even gave us a high five!) I haven't quite noticed this pattern at home in New York, and was surprised how sharp the demographic split was! I'm curious to pay closer attention here and see if my fellow runners in the city fall into a similar pattern.
We turned around and ran back through Plum Island's quaint neighborhood, and around the 10k mark, reached the intersection where I planned to head out for a few miles alone. I toyed with the idea of sticking with my boyfriend for moral support as he continued his run, but in the end I decided to split off and finish my run alone. Having cut a few runs earlier in the week, I also thought adding a few extra miles might be wise and wanted to make that call on-the-go, without worrying about coordinating our different distance runs. I handed off a few dates (a natural alternative to GU or other fuel), filled up his handheld, and while he ran back to the lighthouse to add a few miles to his run, I took off down a different road towards the Parker River National Wildlife Refuge.
The Refuge makes up the bulk of Plum Island south of its few residential streets and lighthouse we already ran to. I knew I wouldn't be able to run all the way to the island's southern tip given the miles I'd already logged, but thought a nice long stretch of road would be a great place to get some me-time during a long run. What I didn't count on was the Refuge having an entrance fee! I didn't even know there was a formal preserve until I ran up to a guard who informed me the entry fee "for runners" was $2. I might be cheaper than a vehicle, but I didn't have a single cent on me and almost burst into tears at the thought that my planned run was doomed. But as I panicked, the occupants of the car at the gate whipped out the fee and gave it to me so I could pay the guard in the booth —not a large sum, but it meant the world to me.
I entered the preserve around the 7-mile mark of my run and continued down the serene road until my Garmin ticked over to ten miles. When I first ran through the gate I was really jazzed up and started running a bit faster — so I considered running some marathon pace miles, but decided to stick with a more casual long run since I was already adding a few extra miles to my plan.
The Preserve was really gorgeous, with seabirds swooping above broad salt flats and just a few other runners, bikers, and occasional car out there with me. If I lived in the area, the $2 fee would be well worth a regular visit! After my turn-around at the 10-mile mark, which I planned to put me at 17 miles overall, I started to feel some tightness in my Achilles again, but didn't struggle too much with it. I ran back past the guard booth to the junction with the road back to Newburyport, and continued back to town. The last mile or so of the run was by far the toughest — I was tired, and as I reached the downtown area near my hotel found that I was smack in the middle of a gorgeous Sunday afternoon's tourist crowds! I ran out onto the marina in hopes that the crowds would let up for my last half-mile, and eventually finished up surrounded by more people than I'd seen on the rest of my run combined.
The 17 miles were long and took a lot out of me, but I didn't feel too bad at the end — in fact, I was really pleased with how strong I felt overall. After a nice big brunch, I got ready to celebrate my friend's wedding. Being on my feet and in heels all night isn't my favorite way to follow up a long run, but I didn't feel too weak and I considered it an excellent day overall, and a great way to cap a fun week away.
Week 5 By the Numbers:
Miles Run: 44.1
Longest Run: 16 miles
Gym Sessions: 0
Miles Biked: 33.8 (2 commutes)
Week 5: Back to Reality
After a week of vacation, my first week of training back in New York had some tough early mornings. As usual, Monday was a rest day for me (it was also my travel day back from Massachusetts) and on Tuesday I jumped right back in to my plan's 9-mile run, with 5 miles at half-marathon pace.
This workout is consistently a really tough one for me. It has been this training cycle, and I remember finding it difficult last year too. On Tuesday, my half-marathon paced miles were again slower than I wanted; 8:36, 8:41, 8:21, 8:24, 8:33 is respectable but I want to see those miles closer to marathon pace than half-marathon pace. Granted, I'm coming back from months off, and given the heat and humidity we've been having here in NYC (and even the big dinner I had the night before!) there's some margin of error, but I'm pretty frustrated with myself for not improving more quickly. But giving those workouts my all, pushing my heart rate, and sticking to my plan is all I can do. I bike commuted Tuesday too, which I'm hoping is improving my overall fitness and not leaving me weak and tired for my runs — but I realize I need to make sure I'm resting and eating well, not just focusing on my workouts.
Wednesday's rainy 5-mile recovery run was a calm one, and I was really optimistic going into Thursday's 10-miler. But it was a disaster from the start. I felt weak and heavy, and every mile left me feeling worse, despite frequent water breaks and slow paces. As my splits dropped from mid-9-minute-miles to closer to 10-minute-miles I grew more discouraged, and eventually at mile 8 I gave myself permission to head home early. I told myself it was because I'd be late for work and wouldn't have time to stretch, eat, and shower if I didn't — but with my boss on vacation and the office pretty lax in the middle of summer, I could have stuck to the run. Instead I gave up.
Sometimes, I think it's okay to listen to your body and call a run early — but I'm really disappointed with myself, because I know I quit this run because my mind told me to, more than my body. I went back early and ended with 9 miles, and while I was tired, I certainly could have pushed through another mile if I hadn't had a shortcut available. Not my proudest day, but hopefully these 9 miles will at least count for something as I'm training my body and mind.
Friday I bike commuted, and tried to keep my paces easy, and Saturday I only ran an easy 5-mile recovery run before Sunday's long 16-miler. I was hoping for a spectacular finish to the week, and while I worked really hard on Sunday, didn't knock it out of the park: my 16 miles with 10 at marathon pace were even more difficult than Thursday's aborted 10-miler.
My plan was to run from Astoria to the Queensboro Bridge and over it into Manhattan, specifically because I know the Bridge is a tough part of the NYC Marathon course and I've never run it headed into the city, only coming home on a post-work run commute! Since I live here and can train on many parts of the course, I want to take advantage of that and get comfortable with as much of it as I can. I ran towards Central Park, and once I hit 5 miles launched into my marathon pace miles — from miles 6 to 15. But in 90+ degree weather I struggled quite a bit. I stopped at every water fountain I saw, not just to drink but to drench my buff, wring it out in my hair and over my face, arms, and legs, and refill my water bottle as much as I could — but I still felt myself overheating and relished every stop and every piece of shade I ran through. The miles in the park were really difficult, and though my splits look okay (ish) I know that's partially due to the many pit stops, water breaks, and exhausted moments spent on the side of the road.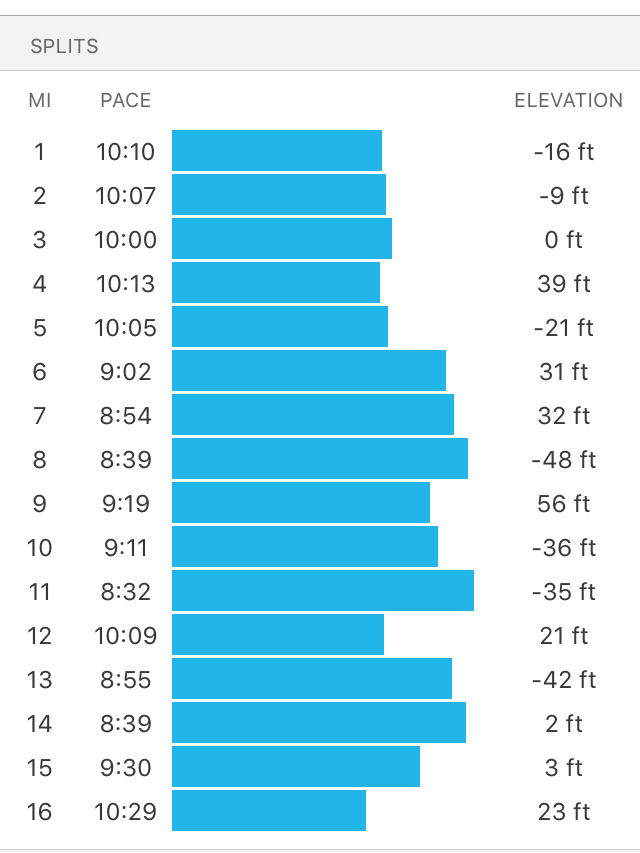 With that said, I didn't really crash until I reached finished running a loop of the park, ran back towards the Queensboro Bridge, and climbed again. I've never stopped on my way over before, but I had been fighting the same nagging Achilles pain since the first time I crossed, and I kept trying to adjust my shoe to alleviate it. As I grew more dehydrated and crankier, the pain grew even tougher to cope with. By the time I got off the bridge at mile 13, I took a break to text my boyfriend for moral support and logistical questions: should I add miles to my run to hit another water fountain, or tough it out and head straight home? Either way, I had two marathon paced miles left. I gave it my best shot but was barely making it a mile a time before really succumbing to the heat. I did pass by one more fountain that I had forgotten about, and after drenching myself one last time, made it home in one piece. In hindsight, I think I was creeping into the realm of heat exhaustion (early stages of heatstroke) and not just regular ol' exhaustion, but fortunately I didn't suffer anything worse than a little dizziness and a bad mood after my run.
All things considered, this long run was okay: in really tough conditions, I stuck to it and didn't die. But the environment also took so much out of me (and maybe a beer the night before was a mistake) that again, I didn't hit the goals I had for the workout. There's value to training in difficult conditions but I don't want to get too used to blaming external factors for my underperformance: I need to hold myself accountable for my training runs, the same as I'd hold myself accountable for my performance on race day.
A little bit of tough love to wrap up two very different weeks for me! This coming week is a recovery week, with slightly lower mileage and less intense workouts, so I'm hoping to use it as a way to rest, reset, and get my game face on. This week I signed up for my shuttle to the marathon start and took a good look at the course map: things are starting to feel real. 12 weeks to go, with lots of work to do, confidence to build, and miles to run.