Green Mountain Trails
Tiny Pittsfield, Vermont (not to be confused with its big sibling in the Berkshires, Pittsfield, Massachusetts) is an under the radar destination for extreme athletes. Pittsfield's biggest claim to fame is its annual snowshoe race, though skiers and snowboarders might recognize it as the 546-person town just down the road from Killington's slopes, which also serve mountain bikers and host festivals in the summer. Thru- and day-hikers pass nearby on the Appalachian Trail and Vermont's Long Trail, or explore the area's many national and state parks, while mountain climbers scale cliffs above. Campers and backpackers have hundreds of thousands of acres to play in.
But what about the runners?
Before my trip to Vermont last week, I wasn't sure where to go running. The state is full of trails and parks, but many were farther north than my beautiful home base in Pittsford (not a typo, just a nearby coincidence!).
I worried that smaller hiking trails might be too rocky, while the AT or Long Trail might be too crowded, and I was nervous the mountain bike trails would be too steep for me on foot. But during a little bit of vacation planning and research I stumbled across a small network of trails in Pittsfield —and encouraged by the existence of Strava running segments and an unrelated recommendation by my airBNB host— and realized I'd found my destination.
The Green Mountain Trails in Pittsfield are more of a guerilla operation than I'm used to! But that doesn't make them any less beautiful, welcoming, or well-maintained. Originally designed for mountain biking, they're also open to hikers and are organized by a small but dedicated group of volunteers. With 8 miles on my marathon training plan for my first day in Vermont (and 10 later in the week), their 25 miles of trails to choose from sounded perfect. I planned to focus more on time spent running than on mileage, as shorter trails with elevation can be just as taxing as a long, flat road run.
My boyfriend and I drove less than half an hour from our airBNB towards the GMT area. Because the trail system isn't official like a state park, there's no dedicated trailhead — but the website did say visitors could park across from Amee Farm on Vermont Route 100. We found 100 and headed north, and sure enough, we came around a picturesque bend to see Amee Farm on one side and a rustic sign promising "Green Mountain Trails: Bike Hike Trails" on the other.
We pulled in and parked in the gravel lot alongside an old farmhouse. The porch area had a picnic table, chalkboard with updates on the trails, donation jar, and nice big map all decorated with the circular GMT logo of a wheel with rainbow spokes. We snapped a photo of the map and deliberated which trails to take; now that we had an official map to work from (complete with handwritten notes and updates, like "ford only" across a river) and could plan our route as a loop not just an out and back we'd have to play by ear.
Next to the sign at the entrance to the parking lot, a little sign pointed down a singletrack trail — Barn Dance, with several other trails and distances marked as well. We tied our shoes, grabbed our water bottles, and headed down. We soon found the trail's intersection with the VAST Access trail, which would take us to a bridge instead of forcing us to ford a river to reach the main trail network. I found out later the bridge was actually washed out by Tropical Storm Irene back in 2011, but you can still cross on foot or enter the trails from another point so it hasn't been rebuilt yet. (Irene did a lot of damage in Pittsfield, cutting off the town from surrounding regions for days because of flooding and damage to Route 100 itself!)
The VAST trail is a wide, doubletrack trail that passes through fields, over a bridge, past a barn or two, and then suddenly opens up in to a beautiful manicured lawn: Riverside Farm. This estate is often rented out for weddings and events, so bikers and hikers are asked not to park on their grounds — but the entrance to the mountain trail system is still right up a small hil behind their gravel driveway and carriage house. We didn't know it at the time, but VAST stands for Vermont Association of Snow Travelers; this trail is a snowmobile trail that doubles as a mountain bike trail in the summer, and is wider than the little bike trails that make up most of the GMT network.
Here's where we took our wrong turn: instead of entering the trail system at the sign that said Noodles Revenge (which we recognized from the map, but weren't planning to run) or assuming the next wide trail we could see was the VAST (it was unlabeled, but had a small blaze), we ran along the driveway of Riverside Farm away from the mountain. The gravel driveway brought us to a road that headed straight up the mountain. Thinking it was the VAST Trail, we started climbing! Dripping sweat and shocked at how open, bright, and paved the road was, we headed uphill for nearly half a mile before sanity checking ourselves with Google Maps.
Turns out, we'd left Riverside Farm and started running straight up the mountain on another road entirely — not one of the GMT trails! We jogged back down and returned to the Noodles Revenge signpost, where we realized the steep trail we'd ignored before was the one we wanted. Noodles Revenge takes a gentle grade up the mountain with a series of switchbacks, leading it to look like a pile of noodles on a map (or maybe leaving your legs feeling like noodles afterwards?) but the VAST takes a much more direct route uphill.
We started climbing again, but did more walking than running thanks to the grade. GMT Trail signs popped up at most intersections, with handwritten and with funny names as well as helpful distances to other junctions. But we still managed to take one more wrong turn, onto a private trail that split off from the VAST.
Instead of a smoother trail to our left/Northeast —logically, continuing into the network of GMT trails— we split off to our right and found ourselves climbing again. "No snowmobiling" signs were our first indication we'd taken a wrong turn away from the public mixed-use trail, but the lack of blazes, poor trail quality, and stone steps built into the mountainside clinched my suspicion we were heading off-track again. This time we only got about a quarter mile before I insisted we turn back — I've been trying to trust my instincts more, and after our VAST wrong turn I wanted to stay on target.
We returned to the junction and continued down the other trail, and soon enough came to a larger intersection with familiar GMT signs. Running became easier as we reached the Luvin' It (or "Lubbin Eet" trail, which zigzagged up to the summit of the mountain with a shallower grade and more switchbacks. Once we got started here we didn't make any more wrong turns (though there was one false trail entrance right at the start) and we kept a nice steady pace. The terrain did get tougher, though, and I understood why this was considered a more difficult trail for bikers! Tight corners and a steep dropoff had me running carefully — I can't imagine heading downhill here on a bike — and more rocks and roots made the surface of the trail a bit more threatening than the smooth packed dirt we'd been traversing.
Luvin' It climbed up to the Sum' Loop at the mountain's summit, where we scrambled up a shortcut to the very top. Signs had actually mentioned a mountaintop cabin — if they hadn't we probably would have been surprised to find one up there! The panorama of the slopes and picturesque stone cabin were quite a reward after our climb. We didn't stay very long at the top, but when I saw the well-loved fire pit built into the outside of the cabin, I did feel a little jealous of the bikers I imagined heading up here to relax and barbecue, instead of running a few more miles myself...
When we reached the cabin we were just about halfway through our run, with just over 4 miles covered and about an hour of time on our feet. Trail running and the hiking we had to do meant we were a lot slower than usual! Tackling so much elevation slowed us down, though this little mountain isn't much compared to the ski slopes in the area or major mountain ranges. We topped out at 1,827 feet, just over 1,000 feet from our starting elevation, though the switchbacks and our wrong turns meant we climbed 1,805 feet overall.
We rested up and took some photos, and drank some water. We each brought a handheld bottle and were more than halfway through: I knew we'd be fine even if we drank it all before finishing the run, and preferred that to carrying a camelbak or extra water all over the mountain, but it always makes me a little nervous to realize I'm running out! And speaking of water: the rain that was supposed to catch us had been holding off and we'd had a beautiful morning. It would rain later on, but for the time being we had beautiful blue skies and sunshine to run by. (We thought were facing a week of thunderstorms, but our vacation actually saw quite a bit of sunshine and even the intermittent showers didn't ruin our plans to run and hike.)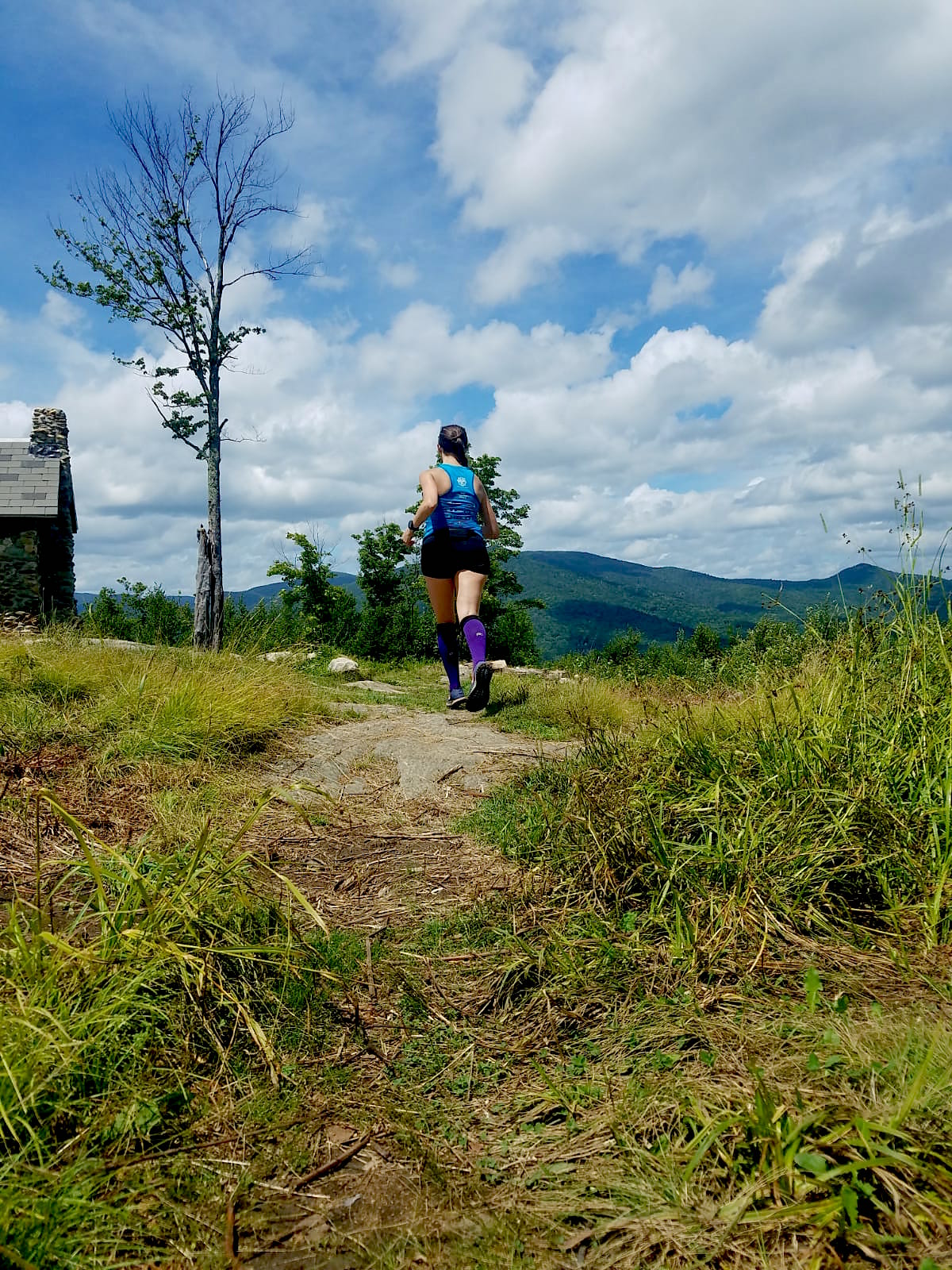 Instead of retracing our steps when we left the summit we took the Fusters trail downhill. Leaving small, tight switchbacks for a long meandering descent was a nice change — and we spent much more time running than hiking. The VAST trail was direct to the top of the mountain but a real strain for us with a 10-20% grade! Fusters was more like Luvin It, with 5-15% incline (or decline, at this point). The descent was quick and fun, and picking up some speed was a nice treat after our slog up to the mountaintop. We did start to get tired after a while —as we worked our way through our water in the heat and didn't have any fuel— but I felt pretty good overall.
Because we didn't want to ford the river back to our car, we avoided the Middle Ravine and Stairs trails and stuck to Fusters, even though those would have been more direct — and eventually arrived at the Escalator. This trail looks a lot like Fusters, and while it doesn't feature any moving staircases it does head back uphill for a bit, eventually returning us to the VAST trail where we made our second wrong turn.
Now that we had our bearings, we headed back down the VAST toward Riverside Farms, along the Access road, and back up Barn Dance to our car. That last mile of the flat VAST access road was surprisingly tough after two hours on the trails, and I was ready to wrap up our run at that point. We climbed the last portion of Barn Dance back to the parking lot, stretched out by the porch, left a note in the guest book and a few bucks in the donation jar, and were on our way!
We stopped into the Pittsfield General Store just down the road for some more water and Gatorade, and saw a huge copy of the trail map out on the counter — the cashier filled us in about the washed out bridge and offered us a map, but at that point we didn't need it anymore! We hadn't seen all the GMT trails but felt like old pros (especially once we were fed and watered again!) In fact, we were so comfortable with the trails —and after checking out the data from our runs on Strava later on, so excited to run some segments a second time— that we returned later in the week. We wanted to crush one of the segments, but to make another long run very short, it got the best of us. That's a story for another day, though!
Overall the GMT were a real blast to run on foot, and I can only imagine how great they are for actual mountain bikers! I don't know that I'm that much of an adrenaline junkie —even skiing still scares me— but maybe one day I'll give it a shot.
In the mean time, if you're looking to check out trails in middle Vermont, I couldn't recommend these more! The GMT website is a great resource, with descriptions of trails and their history, a little bit about the organization, and updates on news about the network. Hope I get to visit again soon!